Padmashree College: Food Technology Education in Nepal.
Introduction:
An elite four-year degree, the Bachelor of Technology in Food Technology [B. Tech (food)] is offered by Padmashree College, one of Nepal's top educational institutions, and is associated with Tribhuvan University, Nepal's most prominent university. Padmashree College is committed to developing highly qualified and knowledgeable people resources with the goal of raising the level of education in food science in Nepal.
B.Tech. (Food) Program:
Our B.Tech. (Food) program has gained tremendous success and garnered immense support from students and guardians. We provide an in-depth education in food science and technology, covering raw material selection, processing, packaging, quality control, safety, and more. In today's health-conscious world, the demand for food technologists is on the rise, making our courses highly sought after among students.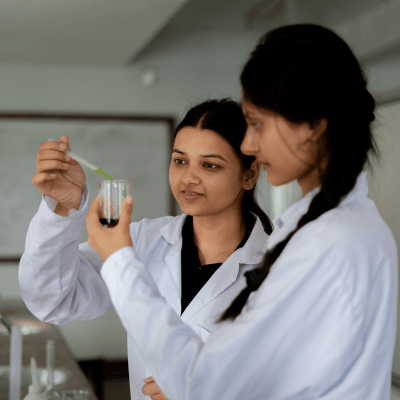 Our Commitment:
Padmashree College is committed to excelling in Research & Innovation, Knowledge Dissemination, Technology Transfer, and Human Resource Development within the field of Food Science and Technology. We uphold the highest quality standards at all levels.
Scope of Food and Technology:
The global food industry is the largest and most vital economic sector. It encompasses various occupations, including manufacturing, retailing, food service, academia, government, research, quality assurance, and food law enforcement. Food professionals are primarily responsible for ensuring consumer safety. Qualified specialists are in high demand to manage this complex and sophisticated food supply system.
As a food technologist, your career options include Quality Assurance Manager, Production Manager, Research Associate, Lecturer, Advisor, and more in both government and private sectors. You can also explore opportunities abroad, working on research, sensory analysis, and quality assurance. Numerous scholarships are available for postgraduate and doctoral studies in renowned international universities.
Practical Training and Partnerships:
Padmashree College collaborates with various organizations, offering practical training and selected programs. We work with national and international government institutions, non-governmental organizations, and private entities. Future plans include establishing partnerships with research institutes and universities worldwide. Padmashree plans to work with the following institutions to facilitate teaching, research, training and information/publication sharing:
Nepal Agriculture Research Council (NARC)
Dairy Development Corporation (DDC)
Department of Food Technology and Quality Control (DFTQC)
Nepal Food Corporation (NFC)
The college also aims to make international tie-ups with research institutes and universities.
Duration of B.Tech. (Food) Program: Our B.Tech. (Food) program spans four years and follows an annual examination system. It comprises a total of 2000 marks, with 25% of marks allocated to practical work in laboratories and pilot plants in each subject (except Dissertation work).
At Padmashree College, we are committed to providing world-class education in Food Technology. Join us and embark on a journey to become a highly skilled food technologist. Discover the best in Food Technology education right here in Kathmandu, Nepal, at Padmashree College, your top choice for a B.Tech. degree affiliated with Tribhuvan University.
Tech. (Food) is based on the annual examination system and is a four-year course with a total of 2000 marks. In each subject (except Dissertation work), 25% marks will be allotted to the practical work carried out in laboratories & pilot plants.
FIRST YEAR

Subjects

Full Marks

Physics

100

Chemistry

100

Math & Statistics

100

Instrumental Technique of Analysis

100

Basic & Food Microbiology

100

Basic Principles of Engineering

50

Total

550

SECOND YEAR

Subjects

Full Marks

Food Chemistry

100

Principle of Food Processing

100

Food Engineering (Unit operation & Process Engineering)

100

Bio-Chemistry & Human Nutrition

100(50+50)

TFP-1 (Cereals, legumes, Oilseed, & Protein Foods

100

Total

500

THIRD YEAR

Subjects

Full Marks

TFP-II (Fruits & Vegetables Chocolates 100
& Sugar Confectionary, Tea, Coffee & Spices

100

TFP-III (Meat, Fish & Poultry)

100

Biochemical Engineering

100

Industrial Microbiology

100

Food Quality Control & Analysis

100

Total

500

FOURTH YEAR

Subjects

Full Marks

Storage & Packaging Technology

100 (50 + 50)

Operation Research & Food Plant Management

100

Dairy Technology

100

Dissertation

100

IN-Plant Training & Class Seminar

50

Total

450