Food Safety and Food Labelling Program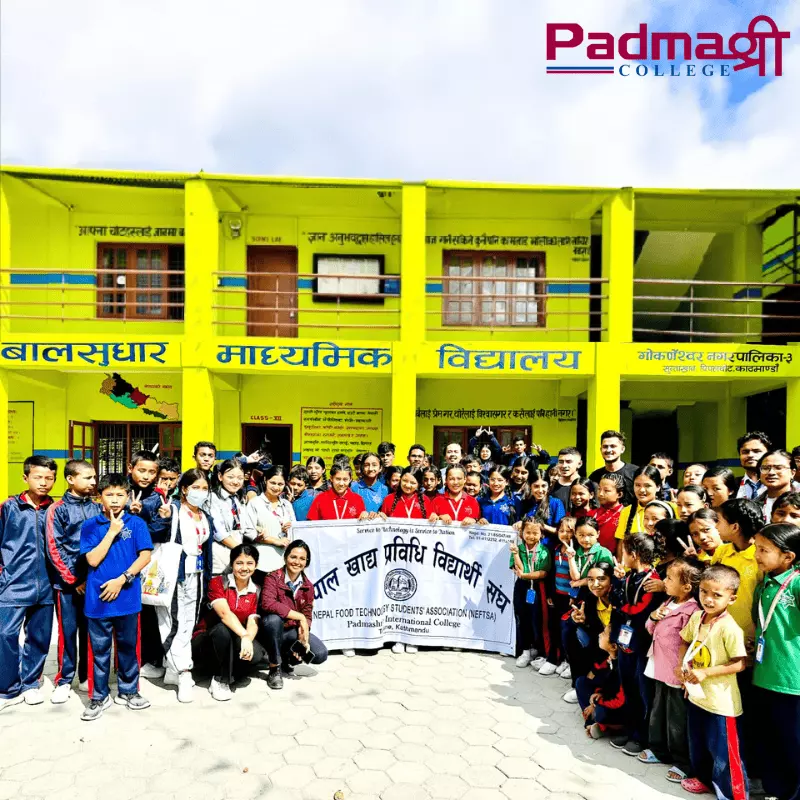 B. Tech food students of Padmashree College conducted a food safety and food labelling program at Shree BalSudhar Secondary School, Gokarneshwor-3, Kathmandu, on September 29, 2023.
In an effort to promote food safety awareness and educate the youth about the importance of proper food labelling. Padmashree NEFTSA, in collaboration with Padmashree College, recently organized a comprehensive food safety and food labelling program. This event took place at Shree Bal Sudhar Secondary School, located in Gokarneshwor-3, Kathmandu, and aimed to impart valuable knowledge to the students and local community.
Food safety is a critical concern in today's world, and understanding how to handle, store, and consume food safely is essential for maintaining public health. Recognizing the importance of these topics, Padmashree NEFTSA initiated this programme as part of their ongoing commitment to community engagement and education.
The programme featured a series of interactive sessions and workshops led by experts in the fields of food safety and nutrition. Topics covered during the sessions included:
Food Safety Guidelines: Participants were educated about the basic principles of food safety, including proper food handling, storage, and hygiene practices.
Food Labelling Regulations: The experts discussed the legal requirements for food labelling in Nepal and how consumers can interpret food labels to make healthier choices.
Nutrition and Diet: Nutritionists provided valuable insights into the importance of balanced diets and how to read nutritional information on food labels.
Practical Demonstrations: Practical demonstrations on food safety practices were conducted to help attendees grasp the concepts more effectively.
Padmashree NEFTSA's food safety and food labelling programme at the community school provided valuable knowledge to empower individuals with the knowledge and skills necessary to make informed choices about their food consumption. It is expected that such initiatives will contribute to the overall improvement of food safety practices and public health in Nepal.